The November issue of Our State is now on the newsstand. My illustration for the trivia quiz "Hometown Heroes" is of Sgt. 1st Class Lawrence Joel, a US Army medic in the Korean and Vietnam Wars, who became the first living African American soldier since the Spanish-American War to receive the Congressional Medal of Honor. He also received the Silver Star for his bravery and sacrifice.
On November 8, 1965, the 1st Battalion of the 503rd Infantry of the 173rd Airborne Brigade was on patrol near Bien Hoa, not far from Saigon. Ambushed by the Viet Cong and outnumbered six to one, nearly every every soldier in the lead squad was either wounded or killed. Under heavy fire, Joel defied orders to stay down and risked his life to administer medical aid to many wounded soldiers. He was shot twice in the leg, but continued to help the wounded, not only in his unit but a nearby company as well.
I was previously aware of the "Lawrence Joel Veterans Memorial Coliseum" in Winston-Salem, but had never given a thought to the person behind the name until this assignment. Joel was from Winston, and after receiving the medal (awarded by President Lyndon Johnson at the White House in 1967) was honored by a parade in his home town which the New York times called "the biggest tribute the city had ever staged". This story captured my fascination for several reasons. One was that my dad was an Air Force captain in Vietnam, flying the Lockheed EC-121 Super Constellation with the 553rd Reconnaissance Wing, the "Batcats" out of Korat Royal Thai Air Force Base. He was serving there the year I was born. But Joel also interested me because I love stories of minority men and women who accomplished great things and/or sacrificed much during a time which, in our nation's slow and painful struggle to mature, it did not extend many ordinary benefits of citizenship to it's minorities. The mid- 60s were a tumultuous time in our country, and the courage, selflessness, and patriotism of people like Lawrence Joel is encouraging in today's hostile political environment. It would do us well to look back often, not merely to the injustices we as human beings inflict on each other, but also to individuals who gave much to bridge those divides and "heal the wounds".
Thanks, as always, to Jason at Our State, always a joy to work with and the embodiment of soft-spoken professionalism. This quiz had a number of interesting items and it was a little hard to decide which story to depict. My second choice was Col. Robert Morgan of Asheville, who piloted the famous "Memphis Belle" B-17 in World War II. I'm posting my sketches here of both Robert Morgan and Lawrence Joel.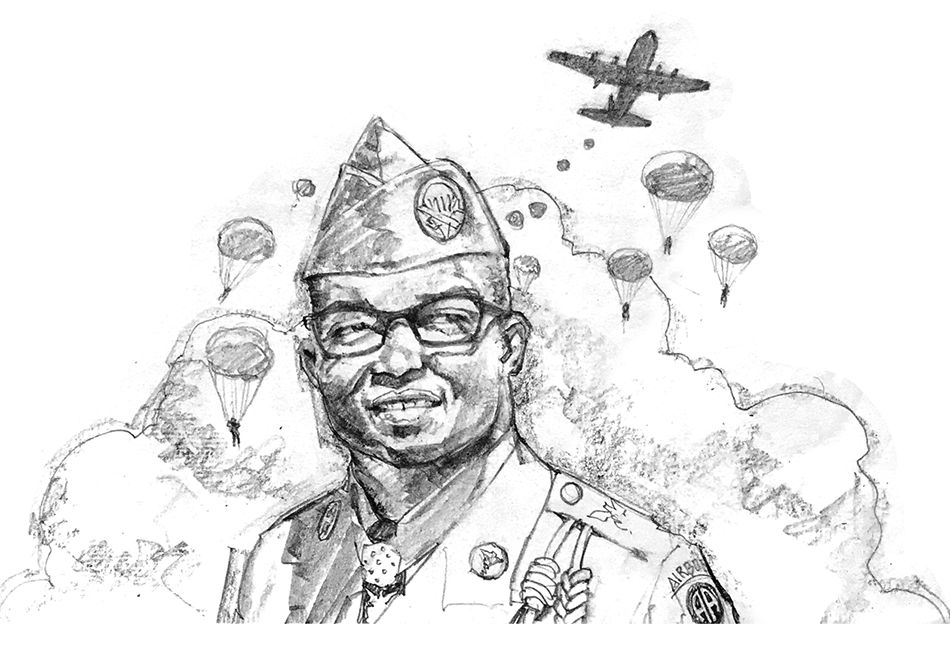 If you're interested in reading further about Lawrence Joel, he's easily found on Wikipedia and elsewhere. His Medal of Honor citation is an inspiring read, and I am posting it here:
"For conspicuous gallantry and intrepidity at the risk of life above and beyond the call of duty. SP6 Joel demonstrated indomitable courage, determination, and professional skill when a numerically superior and well-concealed Viet Cong element launched a vicious attack which wounded or killed nearly every man in the lead squad of the company. After treating the men wounded by the initial burst of gunfire, he bravely moved forward to assist others who were wounded while proceeding to their objective. While moving from man to man, he was struck in the right leg by machine gun fire. Although painfully wounded his desire to aid his fellow soldiers transcended all personal feeling. He bandaged his own wound and self-administered morphine to deaden the pain enabling him to continue his dangerous undertaking. Through this period of time, he constantly shouted words of encouragement to all around him. Then, completely ignoring the warnings of others, and his pain, he continued his search for wounded, exposing himself to hostile fire; and, as bullets dug up the dirt around him, he held plasma bottles high while kneeling completely engrossed in his life saving mission. Then, after being struck a second time and with a bullet lodged in his thigh, he dragged himself over the battlefield and succeeded in treating 13 more men before his medical supplies ran out. Displaying resourcefulness, he saved the life of one man by placing a plastic bag over a severe chest wound to congeal the blood. As 1 of the platoons pursued the Viet Cong, an insurgent force in concealed positions opened fire on the platoon and wounded many more soldiers. With a new stock of medical supplies, SP6 Joel again shouted words of encouragement as he crawled through an intense hail of gunfire to the wounded men. After the 24-hour battle subsided and the Viet Cong dead numbered 410, snipers continued to harass the company. Throughout the long battle, SP6 Joel never lost sight of his mission as a medical aidman and continued to comfort and treat the wounded until his own evacuation was ordered. His meticulous attention to duty saved a large number of lives and his unselfish, daring example under most adverse conditions was an inspiration to all. SP6 Joel's profound concern for his fellow soldiers, at the risk of his life above and beyond the call of duty are in the highest traditions of the U.S. Army and reflect great credit upon himself and the Armed Forces of his country."
-source: Wikipedia, The U.S. Senate Committee on Veterans' Affairs